CyberPanel Hosting Plans
Select the plan as per your preference for hardware. We install CyberPanel with LiteSpeed web server. It gives ultimate performance. It comes with unlimited domains, database, email accounts and free Let's Encrypt SSL.
Great for couple of websites, just beginning to host personal websites.
What's included
1vCPU

2GB RAM

80GB SSD

1TB Bandwidth

1 Dedicated IP

Root Access
Ideal ecommerce startup website. It will great for SEO implementation for you.
What's included
2vCPU

4GB RAM

120GB SSD

2TB Bandwidth

1 Dedicated IP

Root Access
Great for business who has large traffic. This will gives you better performance.
What's included
4vCPU

8GB RAM

180GB SSD

3TB Bandwidth

1 Dedicated IP

Root Access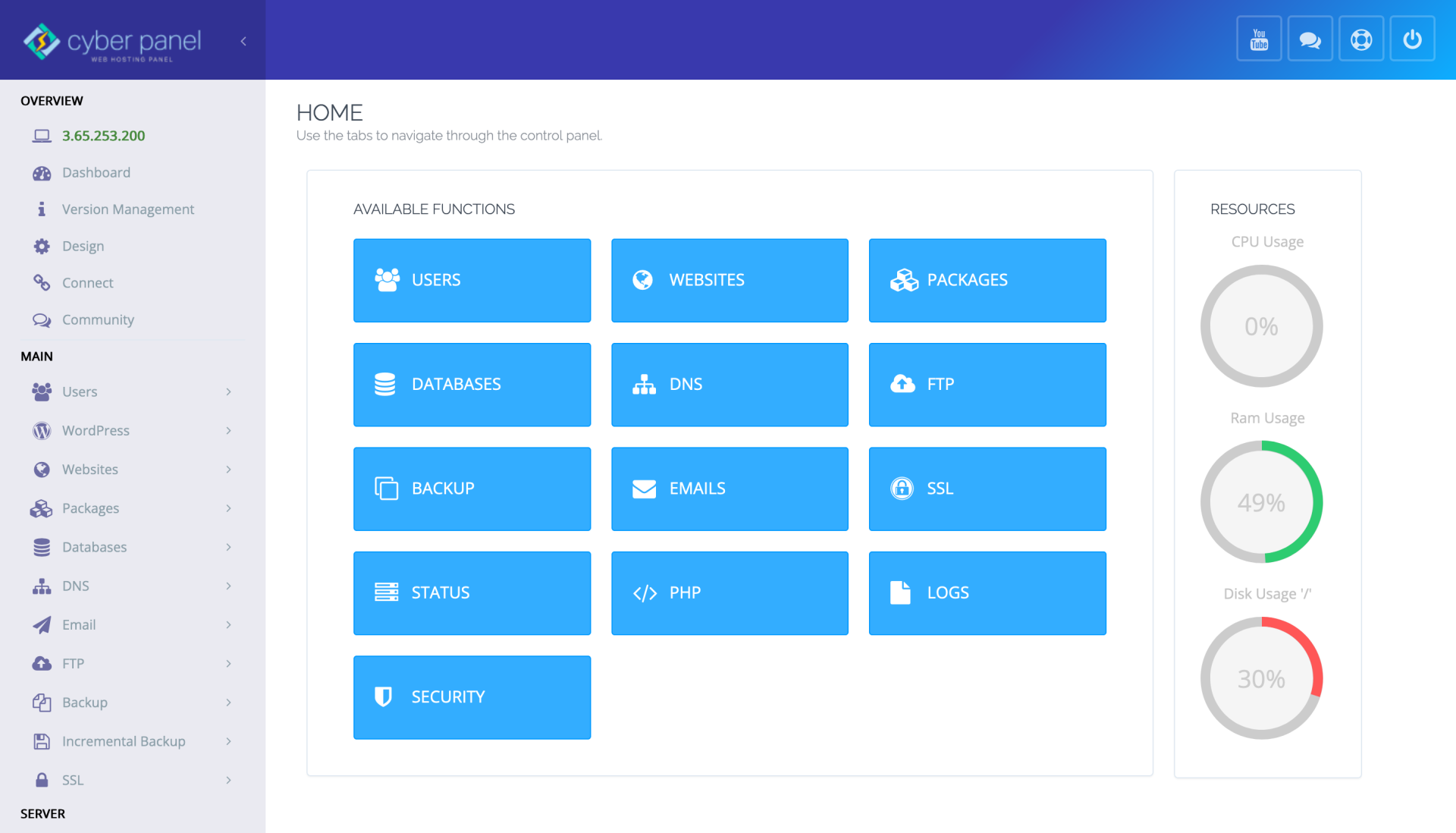 Preconfigured CyberPanel VPS
We provide preconfigured CyberPanel VPS instantly. So you do not need to go with the installation process. It has WordPress staging, web-based terminal and many more features. We provide full root access of the VPS, SSD storage. Simple billing no contract, so you can cancel it any time. It is scalable, so you can upgrade your VPS any time when you needed. If you have any custom configuration requirements, simply open asupport ticket. We're here to help.

Fast Deployment
We deploy CyberPanel on VPS instantly. Once you proceed with the order and the payment gets done, we instantly start provisioning of the order.

ModSec and CSF
CyberPanel comes bundled with ModSecurity and CSF which is web application firewall to protect your website against online attacks.

WordPress Manager
Easily manage all your WordPress websites from a single dashboard with our WordPress Manager. Retrieve backups, take snapshots, restore files.

GIT Deployment
With CyberPanel, you can connect your Github and GitLab repos and deploy code in a few clicks via GIT webhooks.

LSCache
There is nothing better than the LSCache plugin for WordPress. Caching at the page level and at the server level will make your websites faster!

24/7 Support
We have qualified support team, who are passionate about giving you premium support. Around the clock availability.